The choice of hosting for your website represents a critical decision for the success of your online business, an option that is often underestimated. In this article, we will give you some valuable suggestions regarding the reliability, speed, security and support related to the realization of your web project. These tips will help you choose the hosting plan that best suits your needs. For the less experienced, let's start by clarifying two essential concepts: webspace hosting and provider.
Web hosting meaning
The term "web hosting" derives from the English to host and indicates the network service which consists in storing the pages of a website or a web application on a web server, thus making it accessible from the network and its users. Know the best about it from the Webpage Scientist now.
This "webserver", called "host", is connected to the internet in a manner suitable to guarantee access to the pages of the site through the user's web browser, with identification of the contents using the domain name and the IP address.
Hosting provider meaning
The companies that deal with providing this type of services and web space to their customers are called "Web Hosting Provider". The providers have servers and computers that are always connected to the internet through special lines and connections that guarantee a high and stable level of connectivity.
Web Space Hosting Provider How To Choose
But what are the most critical factors that your web agency should analyze in choosing the right plan for your website?
The technical characteristics of your site and the webspace
The starting point is the deep knowledge of your website, its technical characteristics and its needs in terms of resources. Here is a series of helpful questions:
What kind of site will you create? For example, will you use a CMS such as WordPress to create a dynamic site or will you create a static HTML website?
What technical requirements do you need to make your site work? What programming language has been used for the design of your website?
Do you need a database? What kind?
Do you need to sell products or services and accept payments?
Do you want to create a corporate, professional site? If the answer is "Yes", we advise you not to waste time with "free" solutions or with providers. This type of do-it-yourself solution may be fine for "personal" sites but certainly not for professional or business websites, where the technical and positioning aspects of your site on search engines are very important.
How much traffic do you expect to receive each month? This will help determine a little better how many RAM and CPU resources will be needed, and if you don't have to settle for "shared hosting".
In addition to the webspace, do you need extra functionality? Like managing mailboxes or an SSL certificate? Make sure that the web hosting plan you have chosen offers what you are looking for.
What is your monthly budget? This can help you discard certain providers or packages immediately before you waste time comparing the features of the various hosting plans that are outside your account.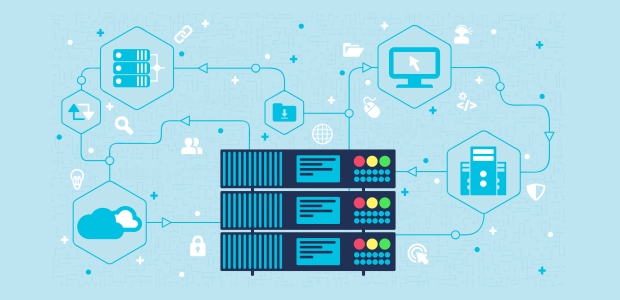 Webspace: understand the difference between the different types of web hosting
Once you have fully understood the characteristics of your project, it is time to move on to the analysis of the offer of the web spaces. As widely discussed in the article dedicated to the speed of a website, if we classify the types of web and hosting spaces based on performance, we can identify some main service "categories":
Shared hosting
This typology is undoubtedly the most widespread.
With shared hosting your website will be physically placed on a server that also hosts many websites of other people or companies with whom you will share the total availability of machine resources (RAM, bandwidth, CPU power, disk space, database, etc.). Who has never heard of Aruba or Register's shared and "super sponsored" hosting to name just two of the most famous Italian providers?
Being the cheapest and most intuitive type of web space, "shared hosting" plans generally offer website creation tools, straightforward management panels and limited support. Many shared plans also include a free domain name.
RAM, bandwidth and hard disk space are limited in these packages. If a shared server becomes overcrowded or hosts resource-intensive websites, your site's performance and loading times may be affected.
This aspect is particularly evident and annoying if it is combined with the phenomenon of overselling, namely the situation in which the provider sells more webspace and more resources than its servers can allow it. This sales technique is based on a statistical datum. The majority of customers, on average, exploit the minimum of resources. Therefore all users think they have the resources all for themselves and they should not notice the problem if not carrying out the required when the server is overloaded.
Dedicated hosting
At the opposite extreme of shared hosting, we find dedicated hosting where each user uses resources "owned" or otherwise assigned individually. It is a service provided at much higher prices than shared hosting plans, but which guarantees high-level performance and quality, including customized configurations and the choice of the operating system. In this type of solution, we can choose "managed" solutions that are, managed entirely by the provider's systems engineers, or "unmanaged", Solutions in which we must have all the technical and systems skills to configure and operate the server and our webspace. Dedicated hosting is ideal for large companies that have server technicians and administrators, as well as high-traffic, resource-intensive websites with many customization needs.
VPS and Cloud Hosting
The VPS (Virtual Private Server) is a middle ground. It is similar to dedicated hosting in that you will have your operating system and the ability to manage all the backend tools on your server. It is also similar to a shared server because you will share your server hardware with other users. This type of plan is recommended for web applications that need more customization than what is available on a shared server, but that does not require the number of resources (bandwidth, RAM, CPU and storage) provided through a dedicated server.
Even Cloud Hosting can be considered an intermediate solution between dedicated hosting and shared hosting. When we talk about cloud hosting, we always refer to a shared environment, but with slightly different characteristics and more excellent guarantees. In a cloud hosting service, we can usually count on more semi-dedicated resources such as bandwidth, RAM and, sometimes, also on CPU or vCPU.
This type of webspace is comparable to a VPS but compared to it, it is in a managed version, that is, it's updating, and maintenance is the responsibility of the provider. Cloud hosting plans have multiple facets and differences depending on how each provider then decides to create its offer. The cloud hosting offerings of the various providers are becoming increasingly interesting.